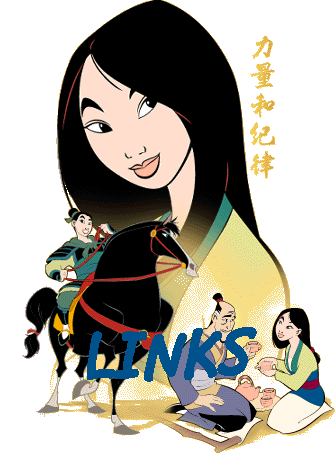 These are the Mulan links that I think that are good. Please send me your links at PoohStuff@Hotmail.com.

The Official Mulan Web Site
Mulan's Pavilion
The Mulan Page
The Future Of Disney Animation
Tom's Disney's Mulan Page
Shan Yu's Tent
100% Mulan
Fa Li's Disney Page
Wen Yao's Mulan Web Site
Meeko's Mulan Web Site
Mulan Unofficial Site
Mushu's Place
The Mulan SuperFan Page
~Mulan Magic~
Michelle's Disney Page
Bargain Disney Collectable Cards, Books, Videos and Information
The Hidden Mickeys of Disney!
(A very cool site!)
Official Disney Web Site